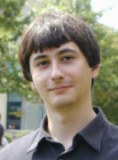 Ivan Chardin
Speech Interface Group
Room E15-350, 20 Ames Street
Cambridge, MA 02139-4307
phone: (617) 253-8071
fax: (617) 258-6264
e-mail: chardin@media.mit.edu

Projects
CryBaby, Mouspeak.

Research Interests
Human-Computer Interaction, Language and Speech Processing, Information Technology.

Education
Graduate research in Informatics, Institute for Information Transmission Problems, Russian Academy of Sciences, 1999-2001.
Diploma cum laude in Linguistics, Moscow State University, 1994-1999.

Where am I from?
Moscow, Russia.