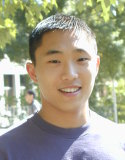 Jang Soo Kim
M. Eng. Candidate
Speech Interface Group
Room E15-343, 20 Ames Street
Cambridge, MA 02139-4307
phone: (617) 253-0673
fax: (617) 258-6264
e-mail: jangkim@media.mit.edu

Projects
Impromptu

Research Interests
Mobile communication, hand held devices, and messaging.

Education
B.S. Computer Science and Engineering, MIT, June 2001.

Interests
Sports (mainly football, basketball, and baseball), fishing, hiking, and movies.

Where am I from?
The most [un]exciting city in America: Cincinnati, Ohio.