One-step Full Parallax Full Color Displays



Steven L. Smith, Alex Raine, Aaron Weber,

Hardcopy holography provides a method for displaying autostereo three-dimensional information in a manageable two-dimensional form. Current optical technologies require process intensive holographic procedures to optically record the many stereo views required for full parallax holographic images. The One-step Full Parallax Full color image as it names implies, produces via a onestep optical pixel printer, image plane reflection holograms that have both vertical and horizontal parallax and are full color or RGB color based.

Original data starts out as a CAD file describing the model or content as polygon structures with surface descriptors and illumination positions.

To produce the many thousands of rendered images required for an image (current image is 8 x 10" with 1mm pixels: 183 rows by 220 columns or 40,260 pixels), we have developed a high speed "just in time" renderer, and a holographic optical printer that images holographic pixels at .9 sec intervals.
As such this image as rendered on Brenhiede BB-Pan plates took 12 hours to print.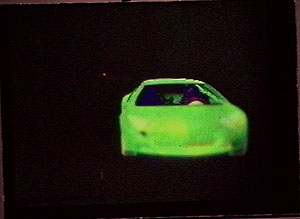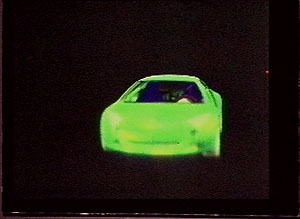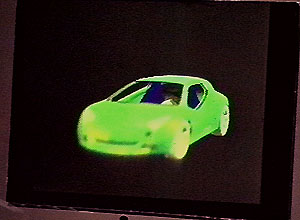 This set of images are some of the views of the Honda JVX concept car as imaged in a full parallax onestep hologram


To play animation, click image above.









Future research in the development of One-step Full Parallax printers will include: holographic optical elements (HOE), format increase to A3 size prints, and pixel size reduction. SPI is developing tools for visualizing medical data from magnetic resonance imaging (MRI) and other applications of three-dimensional imaging techniques.

Image data complements of Honda R&D research sponsors of this project.
Hologram by Steven L. Smith

Associated SPI Publications
*

M.W. Halle, S.A. Benton, M.A. Klug, and J. S. Underkoffler , "the Ultragram: a generalized holographic stereogram," in: S.A. Benton, ed., SPIE Vol. 1461, Practical Holography V (Feb. 1991) pp. 142-155.

*

M.A. Klug, M.W. Halle, P.M. Hubel, "Full Color Ultragrams," in" S.A. Benton, ed., SPIE Proc. Vol. #1667: Practical Holography VI, (SPIE, Bellingham, WA, 1992) pp. 110-119.

*

M.A. Klug, M.A. Halle, M. Lucente, and W.J. Plesniak, "A compact prototype one-step Ultragram printer," in: S.A. Benton, ed., SPIE Proc. Vol. #1914: Practical Holography VII, (SPIE, Bellingham, WA, Feb. 1993), pp. 15-24.

*

Michael W. Halle, "Holographic stereograms as discrete imaging systems," in: S.A. Benton, ed., SPIE Proc. Vol. #2176: Practical Holography VIII, (SPIE, Bellingham, WA, 1994) pp. 73-84.

*

*

Michael A. Klug, Arno Klein, Wendy Plesniak, Adam Kropp and Benjie Chen, "Optics for Full-parallax holographic stereograms." Proceedings of the IS&T/SPIE's Symposium of Electronic Imaging,Proc. Vol. 3011: Pratical Holography XI, February - 1997, Paper #10.

*


Associated SPI Theses
*

John Underkoffler, Towards Accurate Computation of Optically Reconstructed Holograms , S.M.
Thesis, Program in Media Arts and Sciences, Massachusetts Institute of Technology, June 1991.

*

Michael Klug, Holographic Optical Elements for Holographic Stereogram Printers, S.M. Thesis,
Program in Media Arts and Sciences, Massachusetts Institute of Technology, June 1991.

*

Michael Halle, The Generalized Holographic Stereogram, S.M. Thesis, Program in Media Arts and
Sciences, Massachusetts Institute of Technology, February 1991.

*

Michael Halle, Multiple Viewpoint Rendering for Three-Dimensional Diplays, PHD Thesis, Program in Media Arts and Sciences, Massachusetts Institute of Technology, March 1997.










This project is sponsored by the Digital Life Consortium at the MIT Media Laboratory and Honda R&D Co.

HTML by Steven Smith
---