Entrepreneurship
Below are some of our projects to support the entrepreneurial endeavors of the growing, global community of mobile phone software developers.
SMS Bootcamp - Text Message Service Prototyping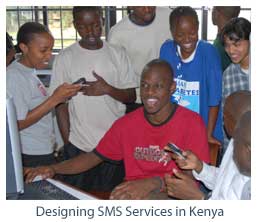 The most popular mobile phone applications are server-side SMS (text messaging) services. During the 2006-2007 academic year, we will be offering a "SMS Boot Camp" at the University of Nairobi, a project-based course enabling teams of students to launch and market their own SMS services to the millions of mobile phone users in Kenya. A small amount of seed funding will be available to the best teams interested in turning their project into a commercial venture. <!- Need extra space!>
Mobile Phone Programming for Entrepreneurs
We will be hosting a project-based course that will allow students to learn enough of the basics of mobile phone programming to design and launch their own mobile phone application. While a major focus of the course will be on the technical skills required to build these application, we will also have a particular emphasis on opportunity analysis and product marketing. Success in this class depends on recognizing an existing market demand and the meeting that demand with the design and launch of an original mobile phone-related service. While there will be an emphasis on SMS server-side application development, we will also give students to the skills to build applications on the phone itself.