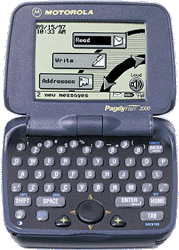 Knothole: intelligent paging
Stefan Marti, Chris Schmandt
We use two-way pagers as mobile interfaces to our desktop computers, combining PDA functionality, communication, and Web access into a single device. Rather than put intelligence into the portable device, we rely on the wireless network to connect to services that enable access to multiple desktop databases, such as your calendar or RolodexTM, and external sources, such as news, weather, stockquotes, and traffic.
An example: To get the current weatherforcasts for Boston, one sends the page "WX BOS", and gets back "1025 AM EDT SUN 4. THIS PM SUN. HI 60 TO 65. NW WND 10 TO 15 MPH BCOMNG N. TNGT MOST CLR. LOW MID 40S. LT N WND. MON MOST SUN. HI MID 60S."
All current features are listed in the Knothole helpfile.
---
Publications | Video Archive | Projects | People | About Us