The Vision

M. Resnick, A. Pentland



J. Paradiso, R. Picard,
S. Manalis, A. Pentland





Physical Structure of the Center: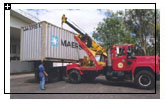 The main body of this prototype is a standard 20 foot ISO shipping container that has terminated its "shipping life" because of metal fatigue, but still is in very good condition for other uses. Such containers are available thoughout the world; our containers were purchased in Costa Rica for US$825.
Many different types of structures were considered, including completely distributed ones, and the pros and cons of the container itself were discussed. In the end the most promising design was a relatively unmodified container, surrounded and covered by a tensile fabric structure. Such structures have substantial advantages:
They are easily and economically available on the market, and there is a worldwide infrastructure in place for their transportation, which will facilitate deployment to remote areas once converted.
They ensure protection and security of equipment inside.
They are suitable for "assembly line" conversion within the country they will serve, to maximize use of local materials.
They have very sophisticated solar properties, so that power requirements are minimal.

J.M. Figueres, A. Cruz,
J. Barrios, A. Pentland

Assumptions


Practical Plan


Central Themes


Physical Structure


Services